Previous Specials Page. Many items may still be available, though special pricing has expired. Call for current prices and availability. (209) 754-5802
These Previous Specials were taken from the Specials page on October 29, 2001.
The Lady Rides Again!
An Exact Replica of the Coventry Climax valve cover emblem.
No Elite, Eleven, or Fifteen? No Problem! The 2" diameter disc makes a neat belt buckle.
014E 6461.....................$39.95


---
Aluminum Flywheels
Since Tilton Engineering stopped "short run" aluminum flywhe
els, there has been a nasty shortage of British (Lotus and Vintage racing) flywheels. Our all time buy just before Tilton threw in the towel "almost" carried us over until our own designs were finished. As you read this we should have in stock all our traditional street and racing applications, plus other heretofore unavailable flywheel for other British Marques (Triumph, BMC, Coventry Climax, etc.) In the process, we consolidated designs to fit several applications, made process changes to ease manufacture, and technical improvements for lighter weight and less inertia.
---
Line Bore Main Bearings for Lotus/Ford Blocks
We got a rude awakening one morning a couple of years ago when we went to restock our +.015 OD Vandervell main bearings. NLA in any size! Now how can a manufacturer run out of all the sizes at the same time? It can't. VP decided to stop production of the slow moving line, and some accountant somewhere punched his keyboard and scrapped the remaining stock! After much persuasion and cajoling, se managed to get VP to run 250 sets of standards for us. We still had a small stock of undersizes, which we felt would carry us a year or two. But panic broke out and these were soon bought up. Finally, after an 18-month wait, the special production run of -.010 and -.020 are now also available. And we still have a small number of -.030.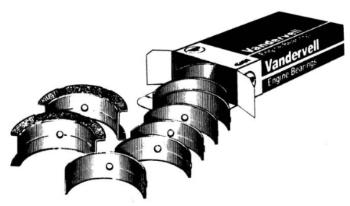 VP Part Number, DBE Part Number, Price/set
VPM 91143-STD....411E 9030...........$88.00
VPM 91143-010.....411E 9031..........$134.00
VPM 91143-020.....411E 9032..........$134.00
VPM 91143-030.....411E 9033..........$134.00
---
Twin Cam Aluminum Cylinder Head
Now fully developed and much better than the earlier versions, these are now available in both standard and large port versions (to save those endless hours porting that long inlet runner). Improved coolant flow around exhaust valves, vacuum impregnation sealing, and repositioning of oil transfer drilling (to stop that stubborn oil leak from behind the front cover) are just a few of the modern innovations that make it the best T/C head ever.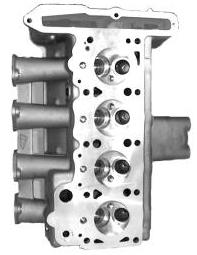 Standard ports......................

536E 0730.....$3400.00

Standard ports, Europa Inlet..

575E 0730.....$3750.00

Big Ports..............................

576E 0730.....$3400.00
Heads are supplied less valve gear, guides, seats and studs. Special pricing available on these pieces with purchase of head.
Note: We will be offering complete ported and assembled heads ready to bolt on, c/w cams, etc.; in three states of tune: 135, 150 and full race 190 HP. Call for details.
---
Twin Cam Block

Original iron blocks are now so rare that even 1500 P.R. blocks (from whence T/C blocks can be made) are bringing obscene prices...if you can find them. These aluminum blocks are stronger and lighter than original (30 pounds), have Nicasil wet liners (83.5 and 85 mm bores; 90 mm bore available with iron liners), improved oiling system, and - best of all- ready availability. They are already SCCA legal for BDA Formula Atlantic and any production class cars using T/C engines. Most vintage groups seem fairly indifferent.
BDP Repro Block
Similar to above, but full cross flow block height and uses iron dry liners (90 mm bore) to make BDG/P 2-liter engine. External features differ enough to stand out from an iron block, but dimensionally interchangeable.
T/C and BD, 83.5/85 mm:

614E 0708................................$3500.00
BDG, 90mm

615E 0708 ................................$3600.00
---
Cross Flow Cylinder Head
478E 6085......$695.00

Ford has ceased production and scrapped all remaining inventory and tooling to make the Kent cross flow/uprated cylinder head. We will spare you our opinion of that inspired executive decision. But there is a steady demand for these because what few you can still find in junk yards have a 50/50 chance of being cracked. This aluminum version saves many pounds (but that's not really the point). Present one of these to your head porter, who's used to the endless grinding on dirty old iron versions, and he will probably kiss you. Complete with bronze guides, hardened valve seats. All parts 100% interchangeable with original. Currently approved tentatively by most vintage groups.

SCCA, as only they can, have appointed an ad hoc committee to study the situation and advise if they should make a decision to put it before the board to discuss the possibility of voting whether or not they think they want to make it legal for FF! Last I heard the Canadian and Australian clubs have already legalized it for their FF classes.
---
Early Elan Trim Bits
Seat and Arm Rest Covers for S1/S2 Elan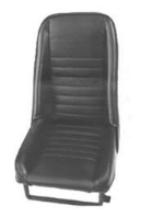 These exact reproduction seat and arm rest covers are excellent quality. The seat cover comes pre-stitched.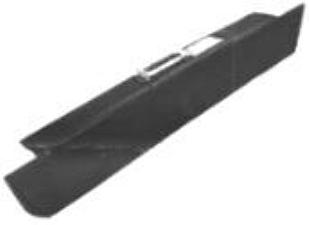 Door Arm Rest Cover
L.H. 026B 0723.....$59.00
RH. 026B 0724.....$59.00
Seat Cover
026B 0742...$220.00
---
S1/S2 Elan Light Weight Repro Hardware
As long as we were going to reproduce these, we thought we might as well do them in light weight aluminum instead of zinc.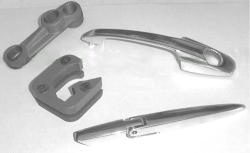 Door Pivot Assembly
Hard anodized for wear resistance, saves .25# (1# per car.)
026B 0072-R.....$49.60
Door Striker Assembly
Hard anodized for wear resistance. C/W taping plate and hardware.
026B 6016/7-R.....$38.60
---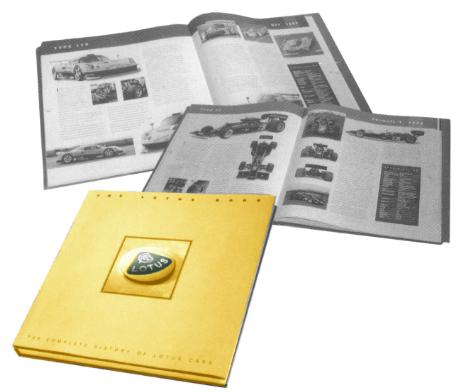 "The Lotus Book" & Poster
If you have been putting off getting this book essential to every Lotus library, now is the time to do it. While supplies last we will supply you with the Lotus 50th Anniversary Poster FOC with your order. You must mention this offer when ordering your book.
2nd Edition
073X 0039.........................$69.00
Autographed
073X 0039S.......................$75.00
---
Turbo Esprit Wheel Locks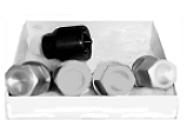 Simply remove any one of the standard lugs from each wheel and replace with a locking lug using the matching wrench supplied with the kit. Limited Quantity!

082G 6025....................$49.50/car set




---
BS
As in B S Levy!

"Montezuma's Ferrari,"second in the series and sequel to "The Last Open Road," Levy's book about 50s sports car racing. This time, Buddy and Big Ed Baumstein do the Mexican Road Race, 1953 Sebring, the (old) Bridge, and many other early venues. All the original characters are there, mixed in with real people like Cunningham, Phil Hill, Shelby, etc. Buddy's technics with race cars and Julie both develop well. It's all written in what Burt calls "first person bar stool," as if it's being told to you by the person next to you at the bar. Indeed, you don't so much read it as hear it! The period development is so detailed an accurate, I was convinced he was an old codger writing his memoirs. When I finally had the pleasure of meeting him, I was shocked to find he was, um, somewhat younger than that.
If you love old race cars, vintage racing, or just genuinely great writing, you'll not want to miss this. If you've not read "The Last Open Road,"

we'll make a special deal on both volumes.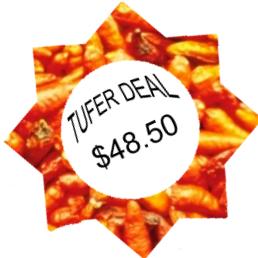 "The Last Open Road"
000X 1029.............$24.50
"Montezuma's Ferrari"
000X 1030..............$30.00
More BS
Tee Shirts - Twenty Bucks
Don't you just love it? They are so inside, only another Last-Open-Roader will get it. Even better than secret signs and fraternity handshakes. Think about it. Your (supposedly) good friend with the Lexus sez, "Hey! You're not Buddy! And what's a Sinclair Station?" You will know, at that moment, he's not one of "us."
Front

Buddy, Old Ragtop Tan
BUDX 63TN - Specify M, L or XL
Front

Buddy, Shop Shirt Blue
BUDX 63BL - Specify M, L or XL
Back

Julie, Poodle Skirt Pink
JULX 63PI - Specify L or XL
Back

Julie, Flange Gasket Asbestos Cream
JULX63IV - Specify L or XL
---
Other BS Levy Regalia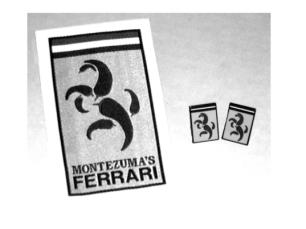 Pin, Prancing Chili Pepper logo
000X 1040..........................$10.00
Tie Tack, Prancing Chili Pepper logo
000X 1041..........................$8.95
Earrings (post), Prancing Chili Pepper logo
000X 1042..........................$19.95
Earrings (hook), Prancing Chili Pepper logo
000X 1043..........................$23.95
Patch, "Montezuma's Ferrari" w/Prancing Chili Pepper logo
000X 1044..........................$8.95
"Last Open Road" labels to sew on your driving suit, shop coveralls, jammie tops, tux, etc., just to fly the flag.
000X 0000..........................$1.00
---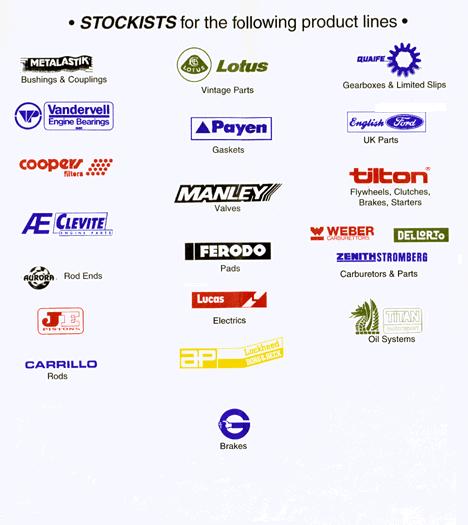 HOME COMPANY ORDERING CATALOG SPECIALS NEWS ASSOCIATIONS REGISTRATION E-Mail
This page and all contents are Copyright© of Dave Bean Engineering, Inc.