These items were introduced or put on special in January 1999. They may still be available but pricing may have changed. Please call for more information 1-209-754-5802
LOTUS MOUSE PAD


000-X -0721
We hope you enjoy the Lotus mouse pad you received in your goodie bag. These are also available for sale. Makes a great stocking stuffer! Or … it may be just the thing to round out that special friend's collection of "Lotustuff." $5.95
Stuff You Need!!!
Weber Conversion
At Last! A Twin Cam Weber Conversion that Works!
Converts Siamese Stromberg Heads to 2 X DCOE Weber Carburetors
No Welding to Destroy Head Temper
No Phony Adaptor Manifolds Bolting to Existing Flanges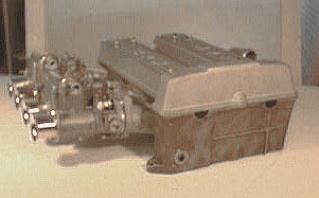 Existing ports and breather box is machined off and a precision CNC machined inlet manifold is bolted on. The interface is then matched for efficient flow. Appears remarkably stock. Although you probably won't be able to pass it off on the more anal vintage tech inspectors, you should be able to fool any smog bureaucrat! Exchange service guarantees quick turnaround. Price includes matched manifold, bolt-on breather for front of cam cover (the problematic and leaky breather box is now eliminated) and a plug for the block breather hole, plus all studs and fasteners. $1350/EXCHANGE (Send us your usable Stromberg head in advance or pay a refundable $800 core charge and send it later) You then take it to your favorite head man for valve job and assembly to complete. Or, we can build up to your specs (standard road to full race) ready to bolt on. (To be quoted separately.)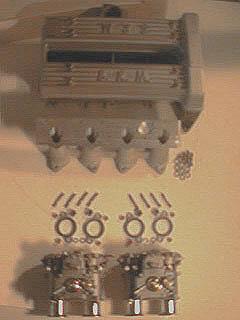 SPECIAL OFFER
If purchased with above: One pair 40 DCOE Webers, c/w linkage, studs, o-ring plates, fuel loom and filter or air box backplate of your choice. Jetted to spec (specify application, camshafts used, and altitude).
$798/complete
---


ECONO
GEAR REDUCTION
STARTERS
Finally - a gear reduction starter for road cars at replacement srtarter prices!
While not as high performance as the new Hitachi-based Super Starters™, these Nippondenso units are nevertheless a definite step up from the rebuilt original equipment versions, and – in the case of the Elan unit – much easier to fit. (We still recommend the Super Starter™ for all competition applications.) There are three versions available:

526-M -3950
Fits Lotus Elan. Easier fit than Super Starter™. Vast improvement over Lucas inertia unit — at only slightly more. $179.00

712-M -3950
Multi-position version of above to fit FF, Lotus 7, Europa T/C, Cortinas, etc. (9-tooth pinion.) $179.00

054-M -3950
All Renault-powered Europas. Replaces both Paris Rhône and Ducellier versions. And cheaper than the French ones (if you can find them). $195.00
---



XLT STARTER
6.8lbs (3 kg) of extra lightweight DYNAMITE!

Same torque as the Super Starter (which means about three times the original Lucas) at 35% less weight. Permanent magnet, planetary gear reduction starter has the highest torque density available. Bolts up to any Lotus, Ford, BMC starter location with 4-1/2" P.C.D. mounting holes. Multiple mounting holes allow clocking the solenoid in 15 different locations to easily fit the tightest installations. Available with standard 9-tooth, 10/12 pitch or fine pitch (10 tooth, 12/14 pitch) pinions. Fits all Lotus T/C, FF, F3, FB, Hewland, etc. applications. Installation into an Elan no longer a religious experience.

597M 3980 ..................398.00
---
Concentric Slave Cylinder Kits
556Q 7800
$248.00

F1 technology for your Elan, Seven, Cortina, Escort, etc. Patterned after Chapman's idea first introduced on the Lotus 78 F1 car, the system completely eliminates the existing clutch linkage and hydraulics (most no longer available anyway) and its associated friction and lost motion. People are always amazed that the effort and pedal travel are both reduced. It is also far from the exhaust heat, often a problem when a car is fitted with larger racing headers.
Currently available to fit 4-speed, 3-rail (ie., 2000E) Lotus boxes, Rocket 4-speed and Sierra 5-speed, fitted with AP or Tilton single plate clutches. We also have a version to fit twin plate 4-speeds for those of you who actually believe the torque specs quoted by your engine builder!
576-Q-7800 Complete Assembly - 4-speed Elan box, single-plate clutch....$297.80
578-Q-7800 Complete Assembly - 4-speed Elan box, twin-plate clutch...$289.00
---
Mini Alternator Kit
40 amp, 6lbs (2.75 kg) racing alternator for Lotus T/C applications!
That's right. Twice the output of your old generator at half the weight! Compact size makes installation a snap, and there is less danger of exhaust heat problems. Complete kit includes alternator, pulley, belt, isolation mounting bracket and wiring loom.
Alternator Kit for Elan, Seven, Cortina, etc.
206-M-1840 .........$356.00

Individual components:

Alternator Only for other applications.
180-M-1840 .........$284.00
Large Diameter (5") aluminum pulley to slow alternator RPM for full race applications
180-M-1842 ..........$66.00
---
We got tired -- very tired -- of dealing with everyone else's version of the removable water pump assemblies. So, we made our own!

026-K-8601 .............................$498.00
ITS ADVANTAGES!!!
1. It actually FITS!!!
So many others require various fettling and hacking about with files and reamers, etc.

2. The insert is actually removable!
After being on the car for 5 years (and it should be), you can still get ours out of the front cover. Everyone else's is usually corroded on. Very careful attention was paid to seal the coolant from the locating registers to prevent corrosive buildup and bonding.

3. True "road side" replacement.
Jacking bolt bosses are provided to draw out the insert. No pullers or slam hammers required --which you can't use anyway without removing the engine.

4. The front cover is secured to the block independently of the water pump.
You won't compromise the cover seal when removing the pump.

5. The W/P mechanicals are heavier duty than originals.
Durability is improved. So you may never even need the quick change features!

6. It's race proven.
---
ATTN: Racers -- now available! Dedicated, virgin lobe cam billets for racing profiles. Latest material, induction hardened lobes, fully machined shaft, lobes left semi-finished for full base grinds to your favorite profile. Or available ready to install with our own various profiles. (See main catalog.)

526-E-0100 Semi-machined (virgin lobes) ready for profiling ..........................................$245.00
576-E-01XX Ground to our various road and race profiles ..............................................$345.00
576-E-0304 Long sprocket bolt to suit billet .....................................................................$8.90
Improvements over original:
1. Three equally spaced small radial holes eliminate stress riser caused by single full cross drill of original, a cause of many snapped cams in race applications.

2. Radiused oil groove also eliminates another stress riser and potential breaking point.

3. Drilled and tapped for deep reach sprocket bolt. Loads the long overhang from front bearing to sprocket in compression, eliminating danger of breakage caused by chain tension.
4. Full diameter lobes allow idealized base circles for any grind from 1.2" on standard .350" lift cams to 1.06" on baddest .500" lift race profile. Semi-machined lobes are induction hardened to 55-58 RC .100" deep on nose for wear resistance. K-iron material compatible with chilled iron or steel tappets.

5. 1/4" diameter gun drill for added stiffness

6. Available with extended tail for Euroopa T/C application.
---
S1 & S2 Elan Door Striker Plates
Out of production for years, S1 & S2 Elan door striker plates are now available again. CNC machined for precision, aluminum for light weight and hard anodized for wear resistance.

026-B-6016 LH.................................$38.60
026-B-6017 RH.................................$38.60
026-B-6018 Tapping Plate (2 required)....$9.50/each
HOME COMPANY ORDERING CATALOG SPECIALS NEWS ASSOCIATIONS REGISTRATION E-Mail
This page and all contents are Copyright© of Dave Bean Engineering, Inc.