These items were introduced or put on special in November 2001. They may still be available but pricing may have changed. Please call for more information 1-209-754-5802
New Products and Re-Introductions

Dog Rings for MK Series Hewland Gearboxes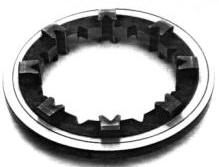 Using latest Formula One technology, these improved dog rings give you:
Faster, more positive shifts from revised narrow dogs.
Alternate dogs reduced in height to reduce drag loss and allow faster shifting.
Fully radiused corners and chamfers for reduced chipping.
Special heat treatment to prevent premature wear.
Oil Distribution groove for reduced shift fork wear and faster shifting.
Replacement for Hewland IIC 232 and Webster rings found in MK Series Hewland gearboxes.
Modern aerospace case hardened material; latest computer technology for manufacturing close tolerance parts.
Part Number: HC 232 ------ $96.50 ea.
Reproduction Lucas 23D Distributor Solid Point Plate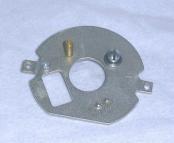 As fitted in non-vacuum advance Lucas distributors. Eliminate the sloppy two-piece plates when converting a vacuum advance 25D distributor to all centrifical advance or as a simple replacement for a destroyed original plate. Out of production for several years, this CNC'd reproduction is sturdier and features higher standards than the original.
Part Number: 026M 6916---------$43.20ea

Metalastic Coupling Centering Device/Fail Safe Device

Still in our catalog, but we haven't had them for years. Now re-introduced as a simpler and sturdier design. This consists of two plates, either side of the donut with mating ball and socket. Prevents half shafts from flailing away at other car components, human anatomy, etc., when a donut fails. Also prevents donut misalignment and resultant orbiting imbalance under high-torque applications.
Part Number: 050D 0040-------$148.00ea.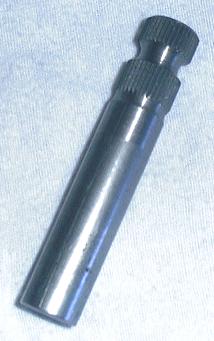 These steering shaft splined ends are for making custom tubular steering shafts for all English race cars, Lotus production cars, etc. Common 9/16-36 spline found universally on current and vintage light-weight English race cars.
Part Number: 061H 0141 --------------- $14.75
---
These parts were removed from the Specials page on March 2003.They may still be available but pricing may have changed. Please call for more information
---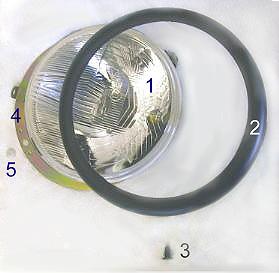 180 mm Halogen European Head Lights. Can be fitted to late Turbo Esprit with 7" main beams or any other 7" application. Uses H-4 bulbs. Part Numbers are:
1...Headlight..............082M 6175..................$89.00 each
2...Headlight Bezel.....083U 1349...................$69.00 each
3...Fastner/spacer......075W 6192....................$0.25 each (need 2 per headlight)
4...Mounting Ring......083U 1350....................$38.00 each
5...Mounting Capsule.082B 6065....................$2.49 each (need 3 per headlight)
---
Rare and Special Weber Carburettors
Jennings Modified 48 DCOE 89/99 Atlantic Carburettors.
Taper bored inlets for 55 air horns and 44mm chokes,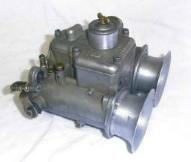 bored out for 50mm butterflies, cut down auxiliary venturis, and high g-load float bowl modifications, these things are a work of art. You couldn't begin to duplicate these at todays labor rates.$2500.00 for the pair. Only one pair available.





HOME COMPANY ORDERING CATALOG SPECIALS NEWS ASSOCIATIONS REGISTRATION E-Mail
This page and all contents are Copyright© of Dave Bean Engineering, Inc.